Office Cleaning Wytheville, VA
If the idea of weekly office cleaning and sanitation at your business in Wytheville sounds overwhelming, why not let our office cleaning team handle the job?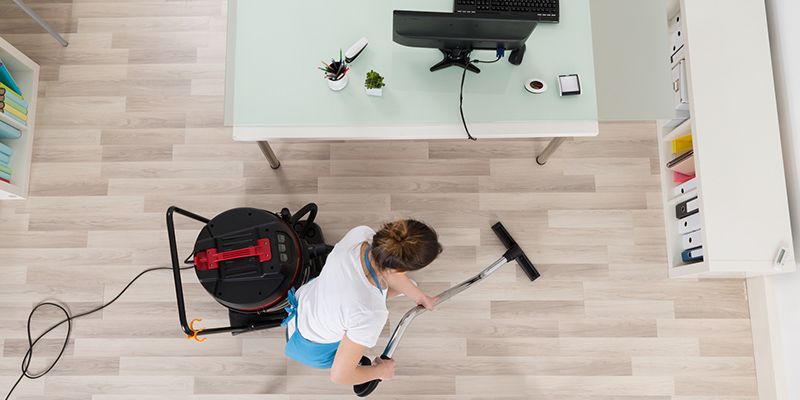 We Offer Office Cleaning
If office cleaning often finds its way to the bottom of your priority list, there is no better way to resolve the problem than to hire our office cleaning team at Astrid Environmental Services. We are committed to providing business owners with the office cleaning solutions they need to maintain the cleanliness and comfort of their workplace in Wytheville, Virginia or surrounding areas, and we do this in the following ways:
1. Clean- With our office cleaning services, we can address all areas of your workplace stations or visitor areas that need attention. From tidying up the children's play area to vacuuming your carpets and regularly waxing the floors, we can provide the unique office cleaning solutions you need for your business office environment. We can also customize your office cleaning services to address the areas that need attention the most.
2. Sanitize- One important aspect of office cleaning that can often be difficult to get to is the regular sanitation of your most-used spaces. While the restrooms might quickly come to mind, it is also important to address handles, door knobs, and countertops in every part of your office to prevent the spread of germs and airborne illnesses. At Astrid Environmental Services, we know the hot spots that should be addressed when it comes to sanitizing both your public and private-use areass, and our office cleaning staff diligently cleans these areas.
3. Maintain- While a thorough office cleaning may happen twice a year or every quarter, it's the office cleaning maintenance in between that is truly the most important. If the idea of a weekly office cleaning and sanitation task sounds overwhelming, why not let our office cleaning team handle the job? We'll work with you to develop a checklist of office cleaning maintenance items and be sure to keep your office looking its best throughout the year.
4. Reduce & Improve- Finally, office cleaning is one of the best ways to reduce your expenditures and improve your time management. If you routinely spend more money than you want to think about on cleaning supplies or you often find yourself spending extra time after hours cleaning your office, professional office cleaning services may be your ticket to freedom. We'll bring the supplies and spend the time, so you don't have to.
As you can see, there are many advantages of choosing professional office cleaning services for your business in Wytheville, Virginia. There are also some great reasons to work with us at Astrid Environmental Services. We are knowledgeable about the indoor air quality of your business, provide a variety of services to ensure your commercial office is the ideal environment for your employees and guests, and can work with you to develop the best plan of action for your office cleaning needs and your budget.
If you have questions about our office cleaning or janitorial services or would like to schedule an estimate for your business in Wytheville, contact us at Astrid Environmental Services today for more information. We look forward to helping you achieve your cleanest, safest, most enjoyable place to conduct business each day with a custom office cleaning solution for you.
At Astrid Environmental Services, we offer mold inspection services in the following areas:
Virginia: Abingdon, Blacksburg, Bland, Bristol, Chilhowie, Christiansburg, Dublin, Floyd, Galax, Glade Spring, Hillsville, Independence, Lebanon, Marion, Max Meadows, Narrows, Pearisburg, Pembroke, Pulaski, Radford, Richlands, Roanoke, Rural Retreat, Salem, Saltville, Tazewell, and Wytheville.
North Carolina: Mount Airy, Dobson, Pilot Mountain, Elkin, and Sparta.
West Virginia: Princeton and Bluefield.